Een Nieuwe Dynastie is een uitbreiding voor IMHOTEP.Het bouwen van monumenten gaat verder! Je hebt aangetoond waardig te zijn en mag daardoor leiding geven bij het uitvoeren van nieuwe bouwplannen. Kun je nogmaals aantonen dat jij hiervoor de juiste persoon bent? Op de markt kom je nieuwe handelswaren tegen die je bij jouw werk kunt gebruiken. En jouw werk is ook bij de Egyptische goden niet ongemerkt gebleven. Ze belonen je als je jouw bouwvoornemens behaalt. Lukt dit echter niet, dan zal hun wraak zoet zijn.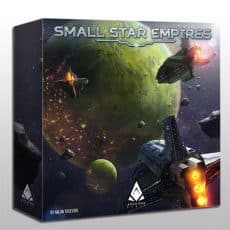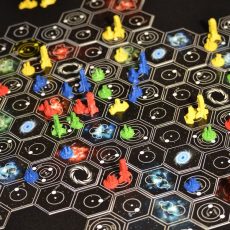 Small Star Empires is a quick area control game for 2-4 players. In this game, players colonize the galaxy using their ships, which they move on a modular board containing hexagonal spaces (systems). The modular board is made up of seven different double-sided sector tiles, which allows for a different map and different experience each time you play the game.
You are a spymaster. Your mission: Dominate the world of undercover intelligence by deploying agents to complete vital missions. To complete your mission, you must first build an underground network of highly trained agents from different branches of espionage. In the card game SpyNet, two to four players work alone or with a teammate to gather the information they need to recruit the best agents and disrupt their opponents' plans. With clever play and careful coordination, you can rise to the top of the intelligence community and become a dominate force in the world of covert espionage.
Welkom in het Manhatten van de jaren 60 met Ticket to Ride New York! Geniet van het adembenemende uitzicht vanaf het Empire State Building (destijds de hoogste wolkenkrabber ter wereld) of maak een wandeling door het prachtige Central Park. Bezoek Times Square, Brooklyn en alle andere toeristische locaties. Tijdens deze kortdurende variant uit de Ticket to Ride spellenreeks racen de spelers tegen elkaar in de drukke straten van New York City om de meest prestigieuze locaties te bezoeken en om hun bestemmingskaarten te voltooien. Voor het bezoeken van een aantal locaties zijn bonuspunten te verdienen, waardoor jouw rit door New York nog spannender wordt. In deze uitgave van Ticket to Ride zijn treinkaarten bovendien vervangen door speciale taxikaarten en ook de miniatuurtreintjes zijn anders, dit zijn nu plastic taxi miniaturen. Maak nu jouw unieke trip in de Big Apple! Inhoud van Ticket to Ride New York: - 1 spelbord van New York - 60 plastic taxis (15 van iedere kleur) - 44 transportkaarten - 18 bestemmingskaarten - 1 spelregels - 1 scoreblok - 1 potlood
Struggle for Catan Kaartspel geeft 2-4 spelers de mogelijkheid om de bonte wereld van Catan te beleven, zoals deze door Klaus Teuber gecreëerd is.
Uitbreiding Chibis voor het Takenoko spel Takenoko Chibis bevat: - Een miniatuur van de vrouwelijke panda - Negen verschillende tegels voor de baby panda's - Zes plot tegels - 18 kaarten - 17 bamboe stukken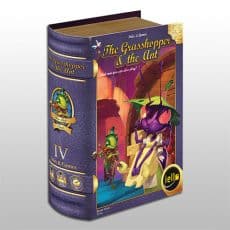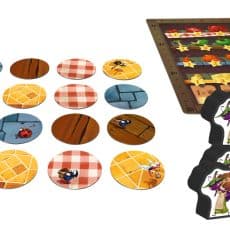 The Grasshopper and The Ant is een strategisch spel dat gaat over het sprookje van de ijverige mieren en de lakse sprinkhaan die wil profiteren van de arbeid van de mieren. Deel 4 uit de reeks Tales & Games, verpakt in de vorm van een sprookjesboek! Speel de mieren of de krekel in de seizoenen herfst of winter en probeer daarbij zoveel mogelijk padkaarten te verzamelen en overwinningspunten te scoren.
Path of Destiny is een expansieset voor het spel Seasons. Deze 'Die of Destiny' uitbreiding bevat twee sets van 10 nieuwe Power kaarten, 10 nieuwe Enchantment kaarten, 6 speciale fiches die je nieuwe speelopties bieden en 1 dobbelsteen. Let op: Voor deze uitbreiding is het basisspel vereist.
Seasons Enchanted Kingdom: Uitbreiding voor Seasons, met 20 nieuwe power kaarten, 10 enchantment kaarten, 12 special ability kaarten en een aantal gereviseerde kaarten voor de basisset.