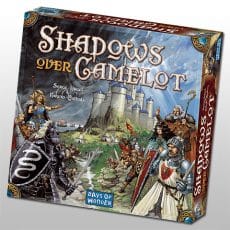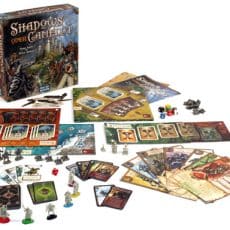 Shadows over Camelot is een uniek bordspel waarin samenwerken een grote rol speelt. Spelers nemen de rol van Ridder van de Ronde Tafel om Camelot te beschermen.
Een klassiek spel is terug! Als een van de eerste workerplacement spellen behoort Caylus tot de echte bordspelklassiekers van de jaren 2000. Het team van de oorspronkelijke ontwerpers hebben nu samen met Space Cowboys een vernieuwde versie gemaakt! De mechanismen zijn gemoderniseerd voor een intens en korter spel, zonder dat het spel zijn diepgang kwijtraakt, terwijl veel nieuwe functies zijn toegevoegd, zoals variabele startpositie, karakters met speciale vaardigheden en een weifelende loyaliteit bieden hun diensten aan, en natuurlijk gloednieuw artwork! De koning roept je weer! Het is tijd om terug te gaan naar Caylus!
Thanos Rising - Avengers: Infinity War is a cooperative dice and card game for 2-4 players. In the game, players will recruit heroes and assemble a team to face off against Thanos and his villainous forces in an effort to thwart him from accomplishing his master plan - collecting all six Infinity Stones to power the Infinity Gauntlet and wreak havoc on the very fabric of reality.