The Whodunit Card Game: "Murder in the big city, and you must solve the crime. Brenda's dead, and foul play is suspected. To win, find out who did it, where, when, how, and why."
Noir is een expansie van Stephane Anqetuil, een zeer getalenteerde schrijver met referenties, waaronder Sherlock Holmes Consulting Detective-scenario's, evenals escape room-boeken. In Noir vertegenwoordigt de hele groep samen één privédetective met onconventionele methoden. In plaats van forensische contacten hebben spelers 4 actiekaarten die ze op elk moment en op elk moment kunnen gebruiken: Spion Inbreken steekpenning Intimideren Je zult niet iedereen kunnen intimideren zonder repercussies. Ook is je geld in een tekort, dus je kunt niet iedereen die je ontmoet omkopen. Deze uitbreiding brengt echt een andere kant van de misdaad aan het licht!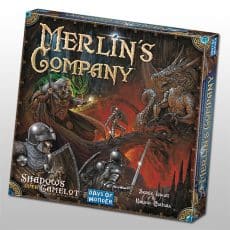 Expansie set voor bordspel Shadows over Camelot. Deze expansie brengt een aantal nieuwe karakters in het spel (inclusief 7 nieuwe Ridders en ook tovenaar Merlijn). Daarnaast bevat Merlin's Company 63 nieuwe kaarten, nieuwe Travel kaarten, extra Black en White cards. Tot slot, deze expansie zorgt ervoor dat je Shadows of Camelot met 8 spelers kunt spelen!