Neem om beurten kaarten die eenvoudige taken hebben om te voltooien, maar die steeds moeilijker worden, hoe hoger de speler, zoals "Correct raden hoe laat het is!" of "Bel een familielid!" Plotseling creëert Stoned interessante gesprekken en heerlijke situaties waarin jij en je squishy-brained vrienden in lachen uit de zaal rollen.
Marshal en Gevangenen is de tweede uitbreiding voor het bordspel Colt Express. Let op: het Colt Express basisspel is vereist om deze uitbreiding te kunnen spelen. De eerste expansie Paarden en Postkoets is compatibel, maar niet vereist. In deze uitbreiding wordt één speler de Marshal! De Marshal heeft 5 doelen die hij wil bereiken. Als hij er tenminste 4 bereikt, dan wint hij het spel! Als hij faalt (en ALLEEN dan!) wint de rijkste bandiet. Inhoud: 1 3D Gevangeniswagon, 2 karakterbladen, 92 kaarten, 1 Marshal pion, 1 paard-pion en 3 buitfiches.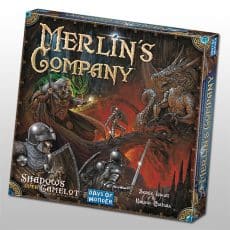 Expansie set voor bordspel Shadows over Camelot. Deze expansie brengt een aantal nieuwe karakters in het spel (inclusief 7 nieuwe Ridders en ook tovenaar Merlijn). Daarnaast bevat Merlin's Company 63 nieuwe kaarten, nieuwe Travel kaarten, extra Black en White cards. Tot slot, deze expansie zorgt ervoor dat je Shadows of Camelot met 8 spelers kunt spelen!