Ticket to Ride bordspellen
Stap nu aan boord voor een avontuurlijke reis door Duitsland! Ticket to Ride Germany is een compleet nieuw, stand-alone spel uit de Ticket to Ride serie. Voor dit spel is de basisversie van het spel dus niet vereist. Bouw je treinnetwerk op de actuele kaart van Duitsland en probeer de meeste bestemmingskaarten te behalen! Maar let goed op, want je tegenstanders proberen als snelste de uithoeken van het Duitse grondgebied te bereiken en waardevolle passagiers op te pikken... Inhoud: 1 speelbord van Duitsland, 225 gekleurde treintjes, 110 treinkaarten, 89 bestemmingskaarten, 1 bonuskaart, 60 Passagierspionnen, 1 stoffen zakje, 5 scoremarkers en spelregels.
Ticket to Ride - Asia is een expansieset voor het bordspel Ticket to Ride en Ticket to Ride Europe. Een leuke uitdagende kaart voor 2-3 spelers. Daarnaast bevat deze uitbreiding nog een nieuwe uitdagende kaart: die van India, voor 2-4 spelers.
Ticket To Ride Nordic Countries brengt de Ticket To Ride serie naar een Scandinaviës avontuur door Denemarken, Finland, Noorwegen en Zweden. Alle bekende steden in deze landen komen aanbod. Ticket to Ride Nordic Countries is in 5 minuten te leren en bevat genoeg speelgenot om vele uren te spelen. Het spel is speciaal gemaakt om met 2/3 spelers te spelen.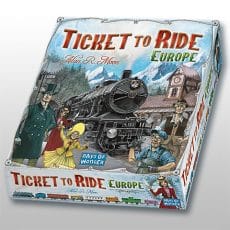 Ticket to Ride Europe is een elegant en eenvoudig spel dat je in vijf minuten kan aanleren. Het is een echt familiespel, maar bekoort ook de echte gamer. Probeer een zo lang mogelijke route neer te leggen en jij bent de winnaar van het leukste bordspel Ticket To Ride.
Ticket to Ride is een treinavontuur dat je dwars door Amerika voert. Spelers verzamelen kaarten met verschillende types treinwagons, die het hen mogelijk maken een claim te doen gelden op treinroutes tussen de steden van Noord- Amerika. Hoe langer de routes, hoe meer punten ze winnen. Bijkomende punten kunnen gescoord worden door twee verafgelegen steden op de bestemmingscoupons met elkaar te verbinden, of door de langste routveverbinding aan te leggen. Klim aan boord voor een plezierige en avontuurlijke treinreis. Uw kaartje is reeds geknipt!