Kaartspellen – spel met kaarten
Remarkably, Iconic Masters was the second Masters series-set to be released in 2017. Its release was connected to the celebration of Magic's 25th Anniversary. The cards of the set were revealed at the HASCON prerelease on September 8–10, 2017. Every booster box of Iconic Masters contains 24 booster packs — each with fifteen randomly inserted game cards, including one premium card in every pack. The 16-card boosters (the sixteenth card is a marketing card) feature artwork from Elesh Norn, Grand Cenobite, Heroes' Bane and Firemane Angel.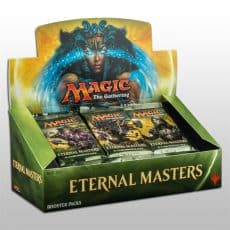 The Eternal Masters set showcases the history of Magic: The Gathering in a way you've never seen it! Featuring cards from sets as recent as Magic Origins and as far back as Magic's very first release, Eternal Masters is designed to provide an exciting and unique Limited experience with cards that have never been drafted together—and some cards so powerful that they've never been reprinted before.