71 jaar geleden ging de wereld bijna ten onder... Uit het niets verscheen de ziekte en teisterde de wereld. De meesten stierven binnen een week. Niemand kon het stoppen. De wereld deed haar best, maar het was niet goed genoeg. De wereld rekent nu op jou; jij bent de laatste hoop van de mensheid! Kun jij de mensheid redden? Pandemic Legacy Season 2 is een episch, coöperatief bordspel voor 2 tot 4 spelers. In tegenstelling tot andere spellen, werkt dit spel jou actief tegen. Bovendien zullen bepaalde acties die je in Pandemic Legacy uitvoert meegaan naar toekomstige spellen. De wereld zal er steeds weer anders uitzien! Pandemic Legacy Seizoen 2 is beschikbaar in twee edities (zwart en gele box), met gelijke inhoud.
Broederschap van de Wachters is gebaseerd op het klassieke spel Catan. In het Game of Thrones Catan spel levert elk gebied in de Gift een van de vijf middelen: hout, baksteen, wol, graan en erts. De kale ijsvelden produceren echter niets. Je neemt de rol van een Broeder van de Nachtwacht op je en gebruikt deze middelen om je greep op het noorden te versterken door wegen, dorpen en burchten te bouwen. Verder kun je wachters voor je patrouille werven om de muur te bewaken of ontwikkelingskaarten kopen. Elk van deze acties brengt je meer macht en erkenning door het toekennen van overwinningspunten. De eerste speler die tien overwinningspunten behaalt, wint het spel en wordt de nieuwe Lord Commander van de Nachtwacht! De basisversie van dit spel is vrijwel gelijk aan het basisspel. De spelregels voor gevorderden bevatten echter veel nieuwe elementen. Je moet dan bijvoorbeeld de muur ten noorden van de Gift tegen de invallende wildelingen beschermen! Game of Thrones Catan is een opzichzelfstaand spel. Het basisspel ''Catan'' is niet vereist.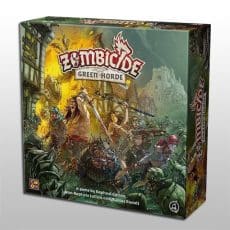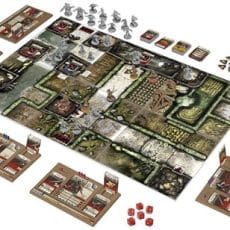 Zombicide: Green Horde includes ten new challenging quests, featuring some of the toughest scenarios a Survivor has ever had to face. With new terrain, like ledges and water holes, and the ever-present threat of the Green Horde making an appearance, the team will have to plan their routes carefully. Sometimes avoiding trouble is better than facing it head on!