Watson & Holmes is een spel van deductie gebaseerd op het magnifieke werk van Arthur Conan Doyle. Twee tot zeven aspirant-rechercheurs stappen in de schoenen van dokter Watson en werken samen met de detective Sherlock Holmes om een reeks tot dusverre niet-gepubliceerde zaken op te lossen die rechtstreeks zijn ontleend aan de dagboeken van dokter John H. Watson. Degenen die de uitdaging accepteren, herbeleven de avonturen van het detective duo, en bezoeken elk van de locaties waar sporen zijn achtergelaten. Het nalopen van de sporen, brengt elke aanwijzing spelers dichter bij het oplossen van de zaak.
Sherlock Holmes Consulting Detective: Jack the Ripper & West End Adventures is een bordspel waarin je 10 mysteries moet oplossen in Victorian London! Probeer de mysteries op te lossen en vergelijk jouw bevindingen die met de ware speurneus: Sherlock Holmes.
Jack the Ripper
Er zijn vrouwen vermoord in het Whitechapel district en alle authoriteiten staan hierdoor op scherp. Volgens alle media zou de mysterieuze moordenaar Jack the Ripper zijn. Lukt het jou eerder dan Sherlock Holmes om de moordenaar te ontmaskeren?
West End Adventures
Het West End district in Londen is de nieuwe scene voor 6 verschillende cases en Scotland Yard staat machteloos. Ben jij in staat Sherlock Holmes te helpen bij deze mysteries?
Engelse versie van Mysterium. Mysterium is een coöperatief bordspel waarbij een mysterie moet worden opgelost door samen te werken. Iedereen wint of verliest dus samen. Alle spelers delen hetzelfde doel: het ontdekken van de waarheid achter de dood van de geest die rondwaart in het landgoed, om hem op die manier de eeuwige rust te gunnen!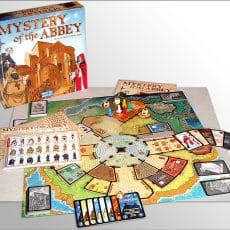 Het rustige klooster wordt opgeschrikt door de moord op broeder Adelmus! Alleen door slimme vragen te stellen en het klooster grondig te doorzoeken kun jij als eerste de kenmerken van de moordenaar bepalen en het spel winnen.